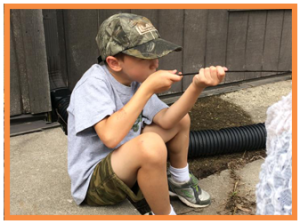 The Lakeview Rod & Gun Club started with 7 charter members and grew to 128 members at one time.  We started a fisheree where we raffled off sausage, pork loins and bacon.  A little further along in the clubs history we decided to develop a rifle range for club use and for a fall sight in. It is open to the public so that they can sight in their firearms for the fall hunting season.
As the club grew we formed a Board of Directors by club member vote so that we could be guided along in our ventures.  The club started a summer fisheree for area kids at which we awarded trophies for fish caught. We served lunch and beverages for all attendees'. The fisheree was very successful and we decided to make it an annual event.  Shortly after that we started a special needs picnic which has grown in size from 50 or so to 350 people in 2010 at our 23rd annual event.  Our club runs a winter ice fisheree which helps us raise funds to support these events.
We have many events throughout the year for our club members of which some are an annual Christmas party for the children with Santa in attendance. A winter ice fisheree for all members with prizes and lunch, and a summer fishing tournament are among a few of our club activities.
Club members get other amenities such as, boat launching at Big Muskego Lake, rifle range use all year, pistol range and discount trapshooting at Lakeview Trap & Sport Club.
We are 37 years young and still growing!